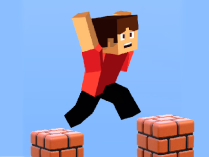 Parkour Block 3D
Parkour Block 3D makes parkour easy. You will be able to complete the entire level if you are successful in completing all of the missions. Playing through all 35 levels of this game is an absolute requirement. Now is your chance to prove that you are the best of the best!
There are a lot of different platforms, and it is absolutely necessary to conquer all of them. Take some time to think about and create your own plan. You will acquire new knowledge with each new attempt, and you will be able to modify your strategies in order to better prepare for the subsequent run.
The further you progress through the game, the more challenging the levels become. They will be fast-moving platforms in which timing is of the utmost importance in order to reach the end successfully. As you jump, it will help you to see the platform more clearly if you look down. Have the best of luck!
Controls
Move with WASD or the arrow keys
Space = jump
L-Shift = run
Double Esc = menu