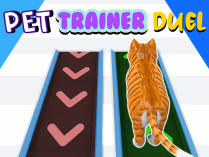 Pet Trainer Duel
Pet Trainer Duel provides the chance to become an expert pet trainer. The cats' health is extremely alarming. You must place the cat on the training platform and make every effort to lose weight. Your cat can lose weight in a healthy manner by consuming a nutritious diet, drinking a lot of water, and engaging in vigorous exercise. Relax now!
As a cat trainer, you must be strict with your feline. Stair climbing, swimming, and bar sliding are all strength-training activities. Avoid consuming foods high in calories. Your diligence and efforts will surely pay off! The game features both single-player and multiplayer modes. Invite additional friends to play and amuse you if you feel bored.
Controls
Use the left-right arrows/AD.