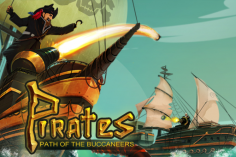 Pirates Path of the Buccaneer
Pirates Path of the Buccaneer allows you to fight with different armies of Pirates. Your mission is to protect the army and ships. Do not let the enemy get in on the loophole. You may be attacked and lose this battle.
It is hard not to be amazed by the dense army of monsters, pirate ships, and other creatures. You must aim accurately and fire large cannons at the enemy so that they have no time to react. You can increase your strength in preparation for the next match. See also Tower Defense, an extremely dramatic fighting and magic defense game.
Feature
Sound effects and vivid graphics.
There are different levels of play.
High-combat monster, pirate ship.
Controls
Left-click = forward or backward movement
Goal = drag and hold on the left-click
Left-click to shoot