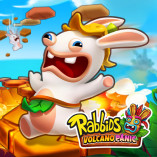 Rabbids Volcano Panic
Challenge your survival skills in Rabbids Volcano Panic, a fun bunny adventure game with various adversaries and challenges. As the volcano erupts and loses control, you must act rapidly to avoid being devoured by the lava. Your objective is to run across the floating cells while avoiding any gaps. The bricks will progressively sink, so you must operate swiftly and skillfully.
It appears that if you do not act fast, you will fall quickly. Collect all the items that improve the speed of creating fiery gas, such as skateboards, spring vines, and hot peppers. Many new clothes can be unlocked using coins. Unlock more than 25 unique skins. Furthermore, there are six separate floors that will eventually fall. 12 baby bunnies panicked and fled the danger.
Controls
Use mouse and arrow keys to move.