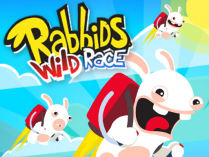 Rabbids Wild Race
You may engage in a race with other players in Rabbids Wild Race. How can you get to the finish line while avoiding obstacles and collecting coins? It's now up to you to support the Rabbids and cope with the terrible things they did. To defeat the other mischievous Rabbids, you must soar as high as you can and gather all the stars. The jetpack may be used to go over barriers as well.
Play the entertaining platforming and infinite racing game Raving Rabbids! You should be aware that if you cross the barrier, the other 31 Rabbids may leap over you and possibly strike you.
Controls
Use space or left click to fly.