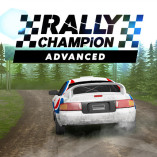 Rally Champion Advanced
Are you ready to race in the Rally Champion Advanced game? Enjoy the stunning racing tracks and the car's incredible speed. Your mission is to battle against other opponents in order to finish first. You will start in 10th place and go first if you have excellent driving skills.
To beat your competitors, you must have exceptional driving skills. Control the steering wheel, maintain your balance on the road, and avoid bouncing off the track in the corners. Make it to the finish line with as few mishaps as possible. Drive past the increasing speeds indicated by the arrows along the path, as they will provide you with the momentum you need to go forward. You can also play other racing games, such as Slope Racing.
Controls
Use arrows to play.