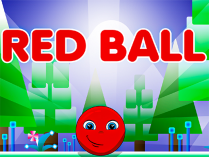 Red Ball
In Red Ball, you can roll and jump through a winter wonderland filled with Christmas trees. You need to guide the red ball as far as you can. Get as many coins as you can along the way! You have 3 lives to use in each level, so play carefully and advance quickly. There will be many challenges to overcome along the way, but you can do it if you put in the effort. The road is snowy and treacherous, so let's see how the ball does! A total of 75 increasingly difficult levels are planned. Exhibit your talents now!
Featured
In a vibrant and joyful Christmas style.
A total of 75 increasingly difficult stages await you.
Use physical elements.
The controller is straightforward and intuitive.
Controls
Move with the arrow keys.