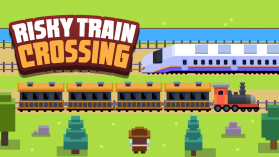 Risky Train Crossing
Risky Train Crossing is a dangerous game where you must cross train tracks. Avoid dangerous situations or your heroic cowboy will be crushed under a train. This cowboy is on a mission. He needs your help to get to the town to collect money. Do you want to help the cowboy in need?
If you pay attention to approaching trains and cross tracks only when it is safe, you can avoid being struck by a train. You can unlock new costumes by collecting coins. As you move along, the trains will speed up and the routes become more difficult.
Controls
Use the touch screen or arrows.