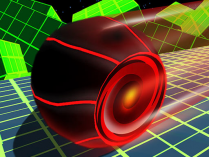 Roll Out
Using the Roll Out game, you can carry on with your journey. This game gives you the opportunity to control a ball as it travels down perilous pathways. This three-dimensional game has a blue striped background against a black background. Cubes of both red and purple are used to adorn it. It is recommended that you stay away from the purple and red blocks. As you approach the red and purple blocks, you will slide into them and then explode. The match is over!
You may maintain complete control of your ball by drawing upon all of your capabilities and doing it in the most efficient manner possible. The experience is improved by the use of images, as well as by the rapid pace. Take pleasure in the exciting rush that the game provides.
Controls
To navigate, use the arrow keys.