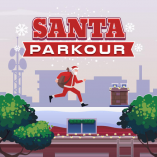 Santa Parkour
Play Santa Parkour and learn to jump! Your mission is to deliver gifts to all children around the world when playing the role of Santa Claus. Running long distances can be difficult for him, but the control of this game is quite simple. You can find money in the city's chimneys and on roofs. To jump, click the ground, and to jump extremely high and then roll, hold down the mouse button. Chimneys and television antennas are potential money drains.
In order to avoid crashing into the obstacles, simply click the screen to make yourself jump over them. If you manage to hit one of those, you'll instantly lose a life. You begin with three lives, so play carefully. Relax together!
Feature
Simple controls with vivid 2D visuals.
Unique Christmas theme.
Unlock different parkour skills.
Endless game.
Controls
Left-click to jump.