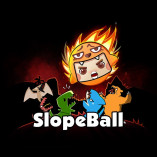 Slope Ball
Slope Ball is a thrilling action and adventure game. Five creatures are attacking our planet. You become the hope of the entire planet, gathering diamonds to restore normalcy. Jump over numerous hazardous hazards as you control the ball. To advance, you must leap at the proper time. You must conquer challenges such as nails, walls, and saw blades.
Face off against T-Rex, Titanoboa the huge snake, Quetzalcoatlus the flying monster, Megatherium the savage bear, and Megalodon the shark. Pass all 11 difficult levels! The more elevation you gain, the more challenging the hurdles become. If you run into thorns, you will be taken back to the flag's location. Fly across places covered in long spikes. Make every effort to advance. Furthermore, you can play more Color Tunnel.
Controls
Click the mouse left button or press the spacebar/ the up arrow key to jump.