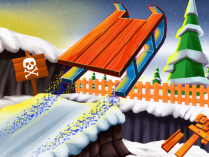 Snow Rider 3D
Do you enjoy skiing? Let's go! Let's go on Snow Rider 3D. Every winter, you should look forward to this game. You can progress as far as you can and earn more points and rewards to unlock more than ten different snowboard models.
As you slide on snow-covered feet, take in the breathtaking scenery. Avoid the obstacles if you don't want to lose your life. Practice a lot and learn tips to improve your skills. Improve your hand-eye coordination to become more flexible. This game is a challenge!
Controls
Move and jump with the arrow keys.