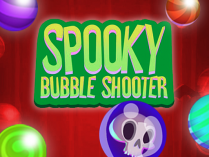 Spooky Bubble Shooter
The balls that are required for Halloween are being held hostage in Spooky Bubble Shooter. Help us free the pumpkins by getting involved right away. Experience the thrill of 55 different levels.
In addition to a spooky Halloween setting, this game includes a match-3 ball shooting game. The players' interest is piqued as a result of it. To begin, you will need to collect all of the scores by shooting bubbles at the targets. You are free to use multiple boosters at the same time in order to complete each level more quickly. In order to progress through the game and complete each level, you will need to trade bubbles for marbles.
Controls
You have the option of using the mouse or the touch screen.