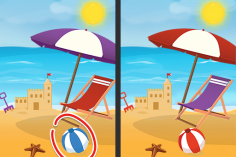 Spot The Difference - Seasons
The objective of Spot The Difference - Seasons is to distinguish between two photos. Diverse photographs with five game modes throughout four seasons. Develop your observation and focus skills further. The two images are nearly identical, but there are three changes that you must find and then click on to highlight.
With over 80 unique levels, each level presents a unique challenge. Start in spring and get 30 stars to unlock summer, followed by autumn and winter with additional wins. This exercise makes you feel like a private investigator. Observe and keep an eye out for oddities!
Controls
Find three discrepancies between two images.