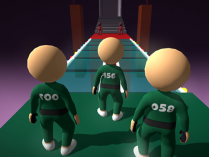 Squid 2 Glass Bridge
Are you a fan of the difficult game featured in the film Squid Game? With the game Squid 2 Glass Bridge, you can now put your skills to the test. You must first find the correct glasses for the glass bridge before crossing it. You are standing on a glass bridge. When you step on some glass, it will crack.
You must take the green route shown to player 456 in order to select the correct block. If you don't remember them correctly or the glass breaks, you'll lose the level. You will be timed, so don't waste time. Enjoy 50 levels of entertainment to help you improve your memory.
Controls
Left-click to select the pane you want.