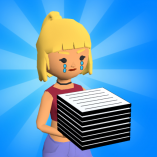 Startup Fever
In Startup Fever, you'll be able to do just that. If you have a small amount of money, you can start a business, recruit experts in your sector, and see your investment pay off. As the company's leader, you'll be responsible for making sure everything runs smoothly, from making sure employees are productive to making sure the machinery is in top shape. Put those few coins toward a table, an appliance, and your first employee. Invest in a managerial suite or HR workplace. To keep your staff content and productive, it's important to invest in office amenities like snack machines, nap rooms, and massage chairs. Are you ready to play more Idle Coffee Business?
Controls
Move via the WASD keys, the arrow keys, or a left-click and drag.

To use the game's controls, use the left mouse button.