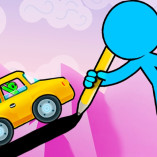 Stickman Draw the Bridge
Each level of Stickman Draw the Bridge is a car rescue puzzle game. Your main goal is to get the cars you see through the gaps they can't cross without your assistance. This game puts your drawing skills and knowledge of physics to the test. On some levels, you'll see a lot of cars that need to get to different places or obstacles that will get in your way. The game includes all 32 levels. Use your intellect to outwit them all. Draw a single line while paying close attention. If it fails, the game is over. Best of luck!
Controls
Draw a straight line with the mouse.