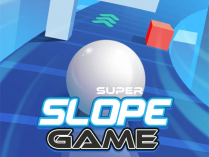 Super Slope Game
One of the anthologies of slope games is called Super Slope Game. In 3D, it is incredibly captivating and enjoyable. Keep the ball under control while avoiding any obstacles. To be able to play the game for hours, accelerate through the ramps and jump from one platform to another.
Develop quick reflexes so you can jump from platform to platform with ease and stay alive in the game. You need to keep from falling into the limitless void. To improve the skin and improve your ability to control the ball, gather more diamonds. You could have a very novel experience with color, classic mode, neon light, and real mode.
Feature
The game has a number of game modes and can be played at top speed for hours.
Earn diamonds to unlock new skins.
Excellent visuals and lovely animations.
Controls
To play the ball, press "A, D," the Left and Right Arrow Keys, or the Mouse.