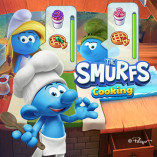 The Smurfs Cooking
The Smurfs Cooking is an adventure game in which the lovable Smurfs prepare for a festival by cooking. Are you prepared to enter the kitchen and prepare delectable meals? Make pastries and beverages for the entire village. You must initially produce cupcakes, pancakes, and donuts. Then, use cream and marmalade to decorate your muffins, cakes, and cookies. Next are beverages, including serving various beverages such as soft drinks, coffee, tea, fruit preserves, and numerous other delectable dishes.
Additionally, you must prepare the correct orders, as incorrect orders will be wasted. Each consumer will receive prompt and efficient service while still receiving quality care. Utilise the already-prepared ingredients in the kitchen in the correct order. Now you can eat delicious cuisine and meet adorable Smurfs.
Controls
Use your mouse to choose options and cook the food.