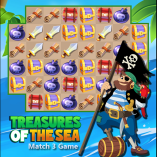 Treasures of The Sea
Welcome to Treasures of the Sea, a match-three game brimming with various treasures. Each level has a unique objective. Simply match at least three identical blocks to remove them from the board. Explore a variety of treasures while listening to entertaining music. By solving puzzles, follow the path on the pirate map.
With 40 unique levels, it is possible to earn more gems and access more advanced levels. The more you ascend, the more difficult your mission becomes. With numerous unique products, the more you match three identical items, the more breakthroughs you can create. Numerous enigmatic treasures await your discovery and collection. If you enjoy match-3 activities, you can also engage in more Bubble Shooter Challenge.
Controls
Use left mouse button to move items.