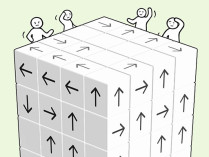 Unblock Cube 3D
Unblock Cube 3D is a 3D cube puzzle game. Train your brain by completing levels and earning rewards. Because blocks can only move in one direction, make reasonable moves. Enjoy thousands of 3D levels with various shapes and difficult puzzles.
The rules and gameplay are straightforward but hugely appealing to players. Put your mind to work and use your reasoning skills to beat each level. Remember that cubes can only move in the direction of their arrows. Do not attempt to herd blocks into the center. Remove obstacles one at a time while maintaining a safe distance. Have fun with this puzzle game!
Controls
Swipe the image to rotate it.

Tap the blocks to advance through the level.