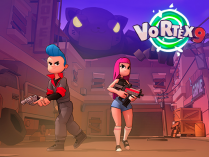 Vortex 9
Vortex 9 is a strange and wonderful place! You will need to defeat other teams to win the 3D game. You can unlock many characters and guide their lives throughout the game, including an evil girl and a giant spy. Each of these characters can use the rich arsenal to attack their enemies with specific skills. Grab your gun and get ready to fight! You can move your hero by pressing the joystick on the left side. You can also press the action buttons on the right to open fire or perform special attacks.
Feature
8 amazing characters: John, Jane, Marvin McSpy, Mr Goodboy, Jess Purrfect, Hellen D. Mon, Mercydroid and Beelzebox.
High end weapons and frenzy.
There are three game modes: Deathmatch Solo, Team battle, and Capture point.
You can fight in beautiful locations in the 3rd-person shooter universe.
Controls
WASD = move, Space = jump, C = crouch, G = throw grenade, M = map, F = pick up item, Left mouse button = shoot, Right mouse button = aim, ESC = menu, 1,2,3,4,5 = change weapon, T = chat.