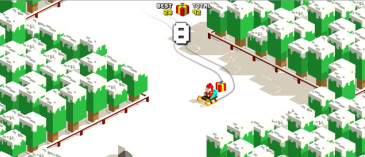 Xmas Slope
Xmas Slope is a snowboarding game that takes place on snowy roads and among Christmas trees. Your mission is to assist Santa Claus in sliding down the snowy road and collecting Christmas presents among the lovely pine forest. You will control the speed and direction of Santa's sleigh as it descends the hill.
Go as far downhill as you can because the further you go, the higher your score. Furthermore, the game provides you with a variety of skins for Santa and his sleigh. Gather gifts to give to children all over the world! Enjoy the holiday season with unique Christmas gifts!
Feature
The most well-known Christmas theme game.
Simple controls and game rules.
Graphics of a pine forest and Santa Claus are super cute.
Strange noises.
Controls
Use the mouse or the touch screen.