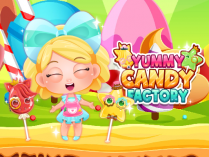 Yummy Candy Factory
Yummy, Yummy, Yummy! The Yummy Chocolate Factory is a game for girls who love chocolate. There are many flavors and colors to choose from. To complete the mission, you must make delicious chocolate bars. You can choose from various candy flavors like strawberry, grape or other fruits by dressing up.
Follow the right candy-making procedures. You can make your own candy! Explore the processes and functions of a chocolate factory through mini-games.
Controls
Play with the mouse.