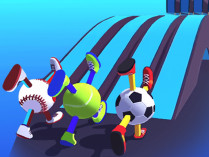 Ball Legs 3D
Ball Legs 3D is a foot-based ball racing game. Your task is to compete against three other people. Roll the small ball to the finish line while moving or walking. When you reach the slopes, use your feet to sprint to the finish line with the highest score. In each scenario, either roll or run. In the obstacle sections, you must choose the most appropriate path.
At the signal, all competitors will rush forward, gradually increasing their speed. Control your speed to run faster. This will widen your legs, but it will also prevent you from crossing the narrower aisle. Overcome them all and reach the finish line! Furthermore, you can play more Balls Race.
Feature
Beautiful graphics with adorable pops of color.
Controls and gameplay are simple.
Interesting gameplay in a 3D game.
Controls
To move faster, hold.