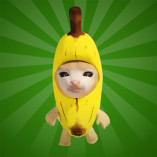 Banana Cat Escape
It's time to play and explore Banana Cat Escape! A funny game where a banana cat tries to break out of a top-secret lab. Cats are being used in experiments, and it's up to you to help one of them get out of there alive. In the face of imminent challenges, rely on your intelligence and resourcefulness to see you through. You can smash the cube by picking up milk on the side opposite the walls. Press the boxes on the floor to reveal the answers to the puzzles that occur.
Get the job done on each level to go to the next one. The difficulties vary from one stage to the next. Pay close attention to the guards or guard dogs, walk stealthily, and avoid being spotted. Remove as many potential interruptions as you can. Let's play some additional games similar to Rabbids Volcano Panic.
Controls
Use arrow keys/WASD keys.