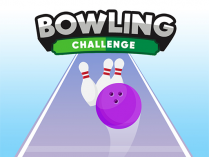 Bowling Challenge
Bowling Challenge is a bowling simulation game. In this game, your objective is to be the best pitcher and score the most points. Gain momentum, aim precisely, and throw the bowling ball to knock down the pins. Wow! Will all the quilles fall? Develop your abilities in front of numerous talented players.
The greater the level, the greater the difficulty of the challenge. Sometimes you must hit a moving target, or the target may be in an awkward position. Everything is an obstacle! There are two different game modes from which you can select the one that best suits you. Bowling Challenge is a simple and straightforward game that requires little adjustment time. In addition, you can play additional games such as Blumgi Ball and Puppet Hockey.
Controls
Use the mouse or the touch screen to navigate.