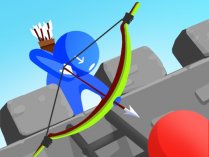 Castle Keeper
Castle Keeper is a simple tower defense game that's easy to learn. The objective of Castle Keeper is to defend the castle and fight the enemy army. Build your castle first, then update it to defend it against enemies. Finally, take control of new lands.
If you're good at archery, you can do more harm by shooting at troops, throwing ladders, and firing barrels. With careful planning, you can amass a fortune in gold. You are now ready to explore another colorful and challenging world. You can also take on Pirates Path of the Buccaneer.
Feature
Vivid 3D images.
To be strong and full of power, upgrade your character.
Take on the worst bosses.
You can play the game for free.
Controls
To move the stickman, drag the left mouse button.