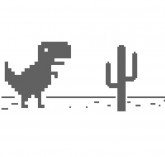 Dinosaur Game
Dinosaur Game is a jumping dinosaur game that can be played in Google Chrome. In addition to those names, people also call them Chrome Dino and Dino Game. This game can only be played if there is no connection to the internet. In this day and age, being without an internet connection is almost equivalent to living in the stone age. This led to the creation of Dinosaur Game.
The Lonely T-Rex is a dinosaur that dances around by himself. You are in charge of guiding The Lonely T-Rex through the sand dunes. Along the way, you'll encounter pterosaurs, meteors, and cacti, among other things. You must run as far as possible!
Even if there is no internet connection, you can still play this game. You can play the Dinosaur Game instantly from any location at any time!
Feature
The majority of the background is comprised of the colors black and white.
Running is endless.
Controls
Left-click or press space to jump.