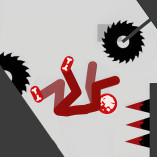 Fall Red Stickman
Play Fall Red Stickman and face the unexpected challenge. Run swiftly and make various strong falls to break the player character's bones. The greater your influence on the character, the higher your score. Starting with the simplest levels, the more points you require, the higher the required score.
With ten different levels of play, you must earn enough points to advance to the next level. If you believe the effects aren't strong enough the first time you play, take a few extra turns to earn the highest score. Simply move, run forward, and make various falls. This has an effect on your playing character, and the bones will break depending on how far you fall. You can play more Red and Blue Stickman 2 in addition to Fall Red Stickman.
Controls
Use the arrows to play.