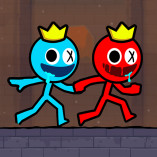 Red and Blue Stickman 2
Red and Blue Stickman 2 is a brand new adventure. You will be controlling 2 stickman characters, red and blue to find the keys to unlock the exit doors. Avoid obstacles and pitfalls along the path or any other dangers that may appear. Understanding the two playable characters will help you complete the mission. Redboy will be able to slide over ice, but he'll have trouble climbing snowy slopes. Bluegirl's speed is reduced whenever she touches a flat surface covered in snow or ice. The snowy slopes, however, are no issue for this incredible girl.
You can push boxes and blocks to reach places that are inaccessible. Control multiple characters simultaneously to activate levers and buttons. How many traps will you be able to overcome? Play VEX Challenges if you liked Red and Blue Stickman 2.
Controls
Move the character with the arrows. The red boy has to avoid the water while the blue girl has to avoid the fire.
Tap the "Swap" button to change from a blue girl to a red fire boy.