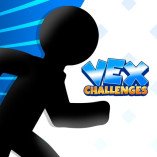 VEX Challenges
VEX Challenges is a game that tests your parkour abilities. While racing against the clock to the finish line, accumulate stars along the way. Will you finish the mission before time expires? You must guide the stickman through the difficult terrain ahead.
The game features 75 distinct levels with enjoyable music. You can also work to unlock different costumes. Try to accumulate three stars on each level in order to receive the maximum reward. Avoid the numerous pits, obstacles, perils, and traps along the path. The Hidden Challenge is a mode that tests your abilities. There are numerous variations of Vex, and you can also play more Vex 7 and Vex 3.
Controls
Use WASD to move and jump.