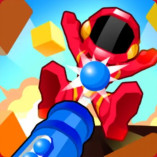 Knock Em All
Welcome to Knock Em All, a 3D shooting game with awesome weapons. In each level, the player is attacked by hazardous dummies. Your mission now is to pick up the gun and eliminate the adversaries one by one. Display your shooting abilities and perfect aim.
You can experience the unique things at Knock Em All with true 3D visuals. You can also eliminate foes by knocking them out of buildings, detonating bombs, or shocking them. Use the quickest and most efficient option available to you. The game's graphics and other aspects are also highly lifelike, allowing players to experience moments of stifling. Gather some power-ups to make your journey simpler. Play it right now!
If you enjoy shooting action games, you can get started right away with Raft Wars.
Controls
Use mouse to aim and shoot.