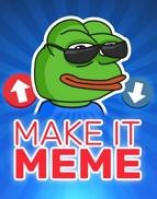 Make It Meme
Make It Meme is a funny meme maker that lets you express your individuality. Can you compete with a large number of other players? Within the allotted time, players will be given a random meme and asked to come up with a clever caption to go along with it. Each participant receives 15 seconds to rate the work.
The game can be played in three different modes: Regular, Same Meme, or Easy. There are a variety of playable game modes to choose from. Click the "Meme Buddy" button to show your affection. Discover your own humor and creativity!
Controls
Use the mouse for some fun.