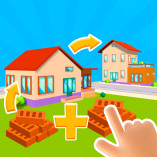 Merge Items
Merge Items is a fun game with a merge-based theme. Combine them to construct your own accomplishments! Your mission is to combine various materials to create new objects necessary for construction success. Build large and beautiful structures. To construct the desired home, you will need materials and construction blocks. Collect and combine stones, masonry, and other materials. Then, select two identical items and combine them to create a new item.
One can construct a city from tiny structures. Create and arrange a city with a unique layout. Try to populate the entire map with structures to earn money automatically. Accumulate coins because they will be extremely useful. If you enjoy merging activities, you can play additional Num Bubbles Matching.
Controls
Use the mouse to play.