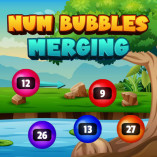 Num Bubbles Merging
Num Bubbles Matching is a puzzle-matching strategy game in which the objective is to combine number bubbles to attain the target number. Combining numbers swiftly and precisely is essential. Tap the bubble you wish to merge with another, then point your arrow at the bubble you wish to merge it with. Once the intended trajectory has been established, release the arrow.
To advance to the next level, you must create 10 bubbles successfully. Consider all possibilities to achieve the intended outcome. The order in which the spheres are merged is crucial, as is their value. The game mechanics hinge on your ability and strategy to determine the optimal merge combinations. In addition, you can also play other games like Marbles Sorting.
Controls
Use the mouse to navigate the arrows. Click to merge the bubbles.