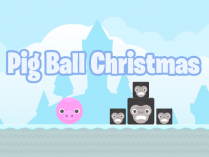 Pig Ball Christmas
Pig Ball Christmas is a game of adventure for the spherical pig. By defeating squares and completing all levels, you can conquer the animal world. To advance to the next level, you must overcome numerous obstacles and avoid your evil, rectangular enemies.
The road is difficult, so exercise caution. On the road, you will encounter monkeys. Even though they will not initiate an attack, it is best to avoid approaching them. You can learn a great deal about Santa Claus by meeting him. Remove all obstructions immediately! Check out some other holiday-themed games, like Snow Rider 3D and Moto X3M.
Controls
You can play with the WASD keys. To kill monsters, leap on top of them.