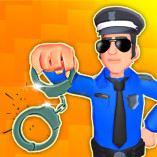 Police Evolution Idle
Stop the city's criminals as heroic police officers in Police Evolution Idle. As a cop, you are responsible for pursuing criminals and locating incorrectly parked automobiles and traffic control posts. Laws are enacted to maintain order and safety in the city. As a result, violators will undoubtedly face consequences.
Explore the streets on a regular basis, tracking violators, identifying illegally parked vehicles, and managing traffic checkpoints. With each crime you solve, you gain access to new features, such as new types of suspects and traffic control tactics. For you, the ultimate goal is to keep this city safe and free of vandals. You can also play other games, such as End of War.
Controls
Use WASD/ arrow keys/ drag the left mouse button to move around.