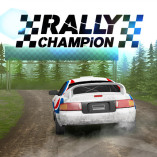 Rally Champion
As a thrilling racing game, Rally Champion features intense rivalries between players. You'll feel like you're on the track, racing against other players for first place, thanks to the game's realistic visuals. With the cash you've earned, you can purchase improvements to your car's handling, speed, and range. Step on the accelerator and go! Are you ready?
To get ahead of other drivers, you need only drive cautiously and switch lanes at the appropriate times. Make use of the track's twists and turns to your advantage and speed past the competition. Faster travel times will give you an edge over your competition. Win more easily by using your stockpile of coins and nitro. You should also experiment with other games that are similar to Highway Racer 3D.
Controls
To play, use the left mouse button and the arrow keys.