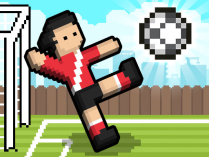 Soccer Random
In this hilarious and unpredictable soccer game, Soccer Random, you'll have to rely on your own skills to score goals. The objective is to score five goals and win the game, but there will be obstacles in the road. Are you ready?
Put yourself to the test in either solo or co-op play! In 2 player mode, you may experience the craziness of controlling two players and attempting to score on the opponent. The game is always engaging because after each goal, the players, the pitch, and the mechanics of the ball change. Additionally, Slope Unblocked features a plethora of additional fun games like Soccer Champ and GAPS.
Controls
Player 1: "W"

Player 2: "UP ARROW KEY"