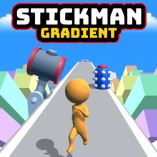 Stickman Gradient
Welcome to Stickman Gradient, a stickman game in which you have to run and avoid obstacles. Your task is to transform into a stickman and complete your mission. Overcoming obstacles, jumping, collecting gems, and avoiding falling off cliffs are a series of actions you need to do if you want to survive.
Use your buddy's quick reflexes to avoid unexpected traps. As you go further, the character's running speed increases, making you need to concentrate even more. In addition, you can also try a few other stickman games, like Castle Keeper.
Controls
Move left and right to avoid obstacles or collect gems.