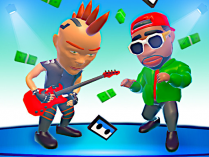 Studio's Pupil
Studio's Pupil is a game that simulates the activities and work that take place in a music studio. Expand your company and begin the process of creating musical works. Don't forget to grow your company. Make investments to accelerate your music production and marketing. Turn your hobby of collecting music into a place where you can build a collection for yourself. Create your own music empire using various investment strategies. You can become a business owner while also pursuing your musical dreams. Begin right away! You can also start the challenge with the game Merge Harvest.
Controls
Move: "W,A,S,D" or "Arrow Keys" or "Touch"

Upgrade: "MOUSE" or "Touch"