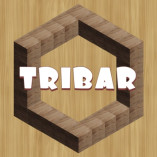 Tribar
Tribar is a puzzle game involving the construction of 3D structures. The objective is to swipe in six distinct orientations to generate the same cube. Gradually increasing in difficulty, players must meticulously plan their moves and utilise their abilities to clear the board before time runs out. The player is challenged to complete the assignment within the allotted time with a limited number of moves. Consider the game from a variety of perspectives; you may find the answer you seek.
Follow the instructions and replicate the demonstrated movements. Construct structures with a single stroke. Build wooden structures and collect as many stars as possible. With straightforward gameplay, puzzles will keep players occupied for hours. With three-dimensional structures, this is a great way to foster imagination. Do not hesitate to select the repeat button if you become stuck. Play and puzzle more with Unblock Puzzle.
Controls
Swipe to create different blocks.