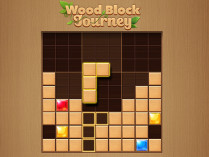 Wood Block Journey
Explore a block-based puzzle world in Wood Block Journey. To complete your mission, you must use wooden blocks to fill the 9x9 grid and eliminate all of the squares. Take advantage of everyone's wits to complete the game. There's also an Endless mode and various difficulty levels to test your mettle on. When playing in Endless mode, you can eliminate entire sections of the board by erasing rows, columns, or individual squares. Your playing time is not limited here.
There will be a fixed level restriction in Mode Levels. Drag the pieces carefully to avoid running out of space, and finish the board without leaving a single space to free it from all the pieces and smash every score record. The more time you spend playing, the more points you earn. You can also play more Unblock Puzzle if you prefer games like Sudoku.
Controls
Use the mouse to play.