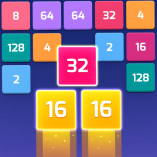 X2 Block Match
Welcome to X2 Block Match, a fun puzzle game. The goal of the game is to combine sets of blocks that share a matching pair. You'll need pinpoint accuracy if you want to hit the blocks at the top. The game gets progressively harder as you play, testing your ability to think strategically and logically as you work to complete each level. Keep combining identical building pieces to get larger sums. To win the game, you must go to the target number, 2048.
Formulate a strategy to get the job done as rapidly as possible. Keep your mind clear and act strategically. Hints or assistance can get you past the current problems. You can play even more Treasures of the Sea if you like puzzle games.
Controls
Use the mouse to play.