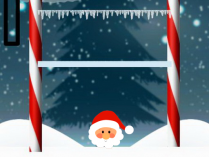 Santa Claus Jumping
As you play Santa Claus Jumping, you'll have to guide Santa through levels filled with snowmen, penguins, and power-ups. Direct Santa's jumps so that he reaches the required height. If he goes too high, he will touch the icy spikes and explode. Carefully and precisely leap over the hurdles! Assist Santa in escaping from danger so he can continue his gift-giving mission. If you face adversity, how many times do you rise above it? Despite the difficulty, practice can help you succeed.
Similar games
In celebration of Christmas, you can also discover more interesting games such as:
Controls
Use the mouse to play.